"Why Is my iPhone's wallpaper blurry?" Is that the question that brought you here? Well, your iPhone's lock or home screen wallpaper could be blurry because of many reasons like Focus modes, widgets, wallpaper blur feature, bugs, or poor quality wallpaper. Let's check the reasons in detail and know how to fix the blurry lock screen and home screen wallpaper on iPhone.
1. Restart Phone
Before we jump to other fixes, simply restart your iPhone. If your iPhone's wallpaper appears blurry due to a temporary bug, a restart should fix it. To restart iPhone, turn it off and then turn it on again.
2. Turn off Sleep Focus
In iOS 15, Apple introduced various Focus modes that let you silence notifications on your iPhone in different ways. One of the Focus modes is Sleep aka Bedtime mode. When Sleep Focus is enabled, your lock screen will automatically turn blurry. This is done to avoid distractions at night so that you can sleep in peace. Sadly, there is no way to turn off the lock screen dimming for Sleep Focus.
You will have to try other workarounds that are mentioned below to get rid of blurry lock screen wallpaper.
Disable Sleep Mode
For starters, you can turn off the Sleep Focus. For that, open Control Center on your iPhone and tap on the Sleep Focus card to turn it off. Check out other ways to turn off Focus on iPhone.
Disable Sleep Mode Schedule
Go to Settings > Focus > Sleep.
Scroll down and tap on any active schedule under Schedule. Turn it off on the next screen.
Switch to a Different Focus Profile
You can also use a different Focus profile like Do not disturb, Reading, etc. To change the Focus mode, go to Settings > Focus. Select a different Focus profile.
Create Your Own Focus Profile
You can even create your own custom Focus profile where you can set all the conditions to match that of the Sleep Focus but without blurring the lock screen wallpaper.  To create a new Focus profile, tap on the (+) Add icon at the top under Settings > Focus and follow the on-screen instructions.
Unlink Sleep Focus From Lock Screen
In iOS 16, you can link a Focus mode to a lock screen. Therefore, make sure Sleep Focus isn't linked to your current lock screen, otherwise, it will appear blurry. To do so, swipe down from the top edge to open the notification panel. Touch and hold anywhere on the screen until lock screen customization options appear. Tap on Sleep at the bottom. Then, tap on Sleep focus again to disconnect it from your lock screen.
Pro Tip: You can also go to Settings > Focus > Sleep. Tap on Edit under the lock screen in the Customize screens section. Then, uncheck lock screen wallpapers to unlink Sleep focus from them. Hit the Done button at the top.
3. Turn off Dim Lock Screen Feature in iOS 15
Sleep Focus dims the lock screen wallpaper automatically on iOS 15 as well. However, iOS 15 also gave the user the power to blur the lock screen wallpaper for other Focus modes as well using the Dim Lock screen feature. So if the Dim Lock screen feature is enabled for any active Focus mode, your iPhone's lock screen will appear dim and blurry.
To fix the blurry lock screen wallpaper, follow these steps:
1. Go to Settings > Focus. Tap on the active Focus profile.
2. Tap on Lock Screen and turn off the toggle next to Dim lock screen. Now, your lock screen wallpaper will appear like regular wallpaper. Please note that you will not see this feature in Sleep focus.
Note: This feature isn't available on iOS 16.
4. Turn off Focus Sharing Across Devices
You can share Focus profiles across different Apple devices. So, if Sleep Focus or any other Focus is enabled (on iOS 15) on one of your devices, the same Focus will be activated on other devices, which could be making your iPhone's lock screen blurry.
For example, I have two iPhones. One is running iOS 15, while the other is running iOS 16. On the iPhone running iOS 15, I activated Do not disturb focus and enabled the Dim lock screen feature. In addition, I had Focus sharing enabled. As a result, my other iPhone running iOS 16 activated Do not disturb, but it also dimmed the lock screen wallpaper due to the Dim lock screen feature enabled on the iPhone running iOS 15. So, if you own multiple Apple devices, be careful.
To avoid such mishaps, simply turn off Focus sharing across devices. For that, go to Settings > Focus. Scroll down and turn off the toggle next to Share across devices.
5. Make Active Widget Smaller
Your iPhone's lock screen may appear blurry if an app widget appears bigger than the usual size. For instance, if you tap on Spotify's now playing cover album, it would make Spotify widget big while blurring the lock screen wallpaper. The same could happen with other widgets. There is no need to worry. Simply tap on any empty space on your lock screen and that should bring back the original wallpaper.
Tip: Check out other cool tips to customize lock screen in iOS 16.
6. Use Good Quality Image
The lock screen wallpaper might be appearing blurry if you have used an image of poor quality or a small-sized image. Your iPhone could be stretching the small-sized image and thus making it blur. Simply download high-quality wallpapers for your iPhone.
Pro Tip: If your iPad's wallpaper looks blurry, try setting the wallpaper in Portrait mode instead of Landscape mode.
7. Turn off Blur Feature for Home Screen Wallpaper
iOS 16 allows iPhone users to blur their home screen wallpaper. You might have enabled this setting and that's why your iPhone's home screen wallpaper appears blurry.
To turn off home screen wallpaper blur on iPhone, follow these steps:
1.  Go to Settings > Wallpaper.
2. Tap on Customize under the home screen wallpaper.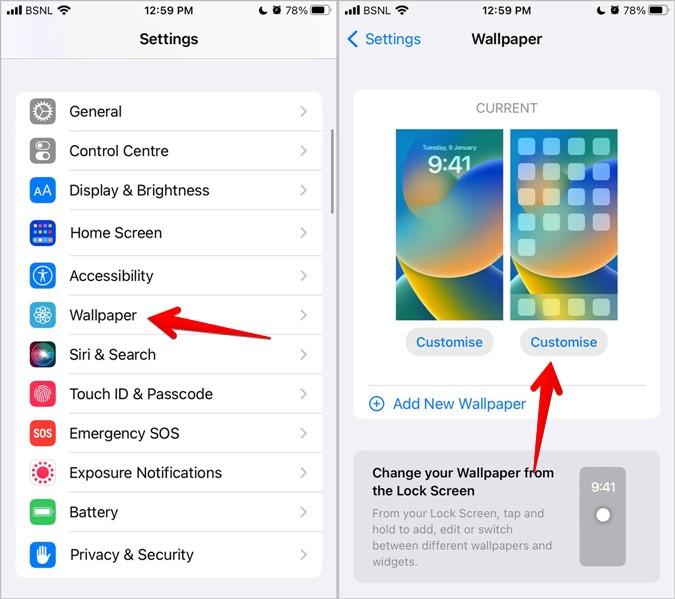 3. Tap on the Blur option at the bottom-right corner to turn it off. Then, tap on Done at the top to save changes.
Tip: Learn how to set different home screen and lock screen wallpapers on iPhone.
8. Reset Home Screen Layout
If the home screen wallpaper continues to look blurry, you will have to reset your iPhone's home screen. Doing so will reset any changes or customizations that you have done to your home screen.
To reset the home screen, follow these steps:
1. Go to Settings > General > Transfer or reset iPhone.
2. Tap on Reset and hit the Reset home screen layout.
Pro Tip: You can also try resetting all settings on your iPhone by selecting Reset settings in step 2 above.  
Customize Your iPhone
I hope you were able to fix the blurry wallpaper issue on the home and lock screen of your iPhone. Once everything is back on track, learn how to customize Control Center on iPhone. Also, check out the best iOS icon packs. You should also take a look at the best home screen customization ideas and tips.